Waiting On Wednesday is a weekly event splotlighting upcoming releases that we readers are eagerly anticipating and is hosted by
Breaking the Spine
.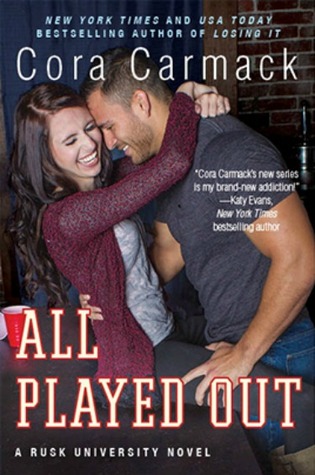 All Played Out
(Rusk University #3)
by Cora Carmack
Publication Date: May 31, 2015
From Goodreads:
Antonella "Nell" De Luca is the first in her family to go to college, and on a full ride, too. She's spent years working and studying nonstop to make the most of this chance. But now college is almost over and she's seriously lacking in friends and a social life of any kind. So, with the help of her friend Dylan, she does what she does best . . . She makes a to-do list. More specifically . . . the Ultimate College Bucket List.Item #1 on that list? Hook up with a jock.

Mateo Torres is a wide receiver for the Rusk University football team. He's committed and works hard, but when he's not on the field all bets are off. He likes to party and do whatever insane thing pops into his head. It's not uncommon to find him dancing in inappropriate places, wearing inappropriate amounts of clothing, and just being generally inappropriate. If it's fun . . . that's all that matters. Because as long as things don't get too serious, he can avoid thinking about the ex he lost when he put football and his ego ahead of her.Hooking up with Dylan's friend, Nell, is absolutely the last thing he should do. She's quiet and smart and innocent, and too much like the girl he spends all his time trying not to think about. But when he gets a taste of her, he's reluctant to give her up. Being around her almost feels like he's getting a do-over. A chance to do things right. And he's the perfect person to help her drop her inhibitions and complete her bucket list.

But as the list draws to a close, they'll both have to decide if what they have is real or just for fun. Life is more than just lists. And the past shouldn't rule the present. But can they figure that out before it's too late?
Add it on Goodreads